Call for Application for EANO Executive Board Members
After dedicating their rare spare time over several years to the development and improvement of the society, our esteemed colleagues will leave the board after the EANO Meeting in Stockholm 2018. The positions to be replaced include scientist, nurses/allied medical professional, oncologist, neurosurgeon, radiation oncologist, neuropathologist however, any specialist may apply as there are no fixed positions for the different disciplines.
The Executive Board will be accepting the new members after the Meeting in Stockholm 2018. The Executive Board is composed of representatives of different specialities and each member has specific tasks and competencies. The duration of the position is 2 years, with the possibility of one re-election.
Click here for application details
Application deadline May 31, 2018
The EANO Executive Board is looking foward to receive your applications!
EANO Youngsters Networking Event
Meet-Discuss-Collaborate
Join the EANO Youngsters Networking Event and meet clinicians and scientists from all over the world to discuss projects and start new collaborations!
Save the date: Friday, October 12, 2018 at 19:00 at the CONFERENCE LOUNGE, Radisson Blu Royal Viking Hotel, Stockholm.
Do not forget to register for a ticket direclty at the EANO 2018 Meeting registration!
KNAW Bob Pinedo Cancer Care Award 2018
Prestigious biennial award for internationally acclaimed researchers in (translational) cancer research and compassionate cancer patient care.
Nominations are now being accepted for the second KNAW Bob Pinedo Cancer Care Award. The deadline for nominations is 1 May 2018. Both institutes and individual researchers are welcome to nominate a candidate or a team of candidates. The award winner receives a bronze sculpture in the form of Professor Pinedo's hand, symbolising both strength and hope of healing, along with EUR 100,000.
More information: knaw.nl/bobpinedoaward
The EANO Executive Board is glad to present this year's EANO Annual Report. It gives you an overview on what we have done during 2017 and on our planned activities for 2018 as well as important developments in Neuro-Oncology in Europe.
For the new EANO Annual Report 2017 click here
WFNOS Magazine Volume 2 (2017) Issue 3
In this issue of the magazine we will have opinion papers on the value of brain tumor epigenetics, as well as on the role of radiation therapy in combined modality therapies with a focus not only on the classical approaches but also radiosensitization and immunotherapies.
On behalf of my colleagues from the EANO board, I would like to wish all readers a successful completion of 2017 and a great start into the year 2018 with one highlight, our EANO conference in Stockholm in October, already determined.
With best regards and joyful reading,
Wolfgang Wick, EANO President
Nino Chiocca, SNO President
for reading the entire Volume 2 (2017) Issue 3, please click here
Travel Scholarships and Meeting Awards
One of the goals of the European Association of Neuro-Oncology is to broaden the network of Neuro-Oncology and to support Neuro-Oncologists in their (inter-) national research projects.
We are proud to be able to offer 2018 several grant and award opportunities:
Young Investigator Travel Scholarships for the EANO 2018 Meeting
EANO Poster Awards for the best posters presented
Vienna Medical Academy Award for the best oral presentation for clinical
EANO Presentation Awards for best oral presentations
EANO Lifetime Achievement Award
Young Investigator Travel Scholarships to attend the SNO Meeting
Click here for further information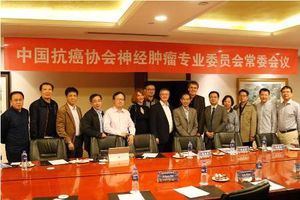 The president of the Chinese Society of Neurooncology, Prof. Chen, invited a delegation from EANO to the East meets West dialogue on Neurooncology. We have been actively involved in the program and attended a Board Meeting in order to discuss future interaction.