EANO Winter School 2020 postponed to 2021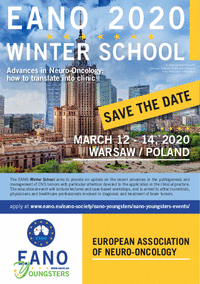 Advances in Neuro-Oncology: how to translate into clinic
Due to the pandemic we had to postpone our Winter School to 2021. Currently no places are available, for waiting list please contact office@eano.eu
General Information:
The EANO Winter School aims to provide an update on the recent advances in the pathogenesis and management of CNS tumors with particular attention devoted to the application in the clinical practice. The educational event will include lectures and case-based workshops, and is aimed to attract scientists, physicians and healthcare professionals involved in diagnosis and treatment of brain tumors.
The main target group are young EANO Youngsters, especially junior staff from all over Europe.
Date: winter 2021 exact date to eb confirmed (arrival Thursdays evening, Friday full day, Saturday until early afternoon)
Venue:
Nencki Institute of Experimental Biology PAS
Address: 3 Pasteur Street, 02-093 Warszawa,
Website: http://en.nencki.gov.pl/
Participants:
The EANO Summer School is intendet for physicians from all disciplines managing brain tumor patients including nurses, researchers, technicians and allied health professionals with an interest in neuro-oncology. Participants are idealy EANO members, with a focus on young EANO members, selection is based on motivation statement and training background.
Registration Fees:
Registration fee for EANO members: EUR 80,- Registration fee for non-members: EUR 150,-
You are very welcome to become an EANO member. To register for EANO membership please click here.
The registration will cover course participation, educational material, coffee breaks and lunch Friday and Saturday, networking dinner Friday evening.
The registration does not cover accommodation or travel. Please book your accommodation directly by yourself.
Please note the EANO Winter School is not EACCME accredited.
Application:
Winter School is already fully booked.
For any further questions please contact EANO Office at office@eano.eu